If you walked into Maria Grazia Chiuri's office without knowing what she did for a living, you probably would not guess she's a fashion designer. You might think, perhaps, that you had entered the study of an esteemed professor. Up here on the seventh floor of the Dior building in Paris, where the light from the Seine bounces off the zinc rooftops and takes on a chic silvery filter, there are no sketchbooks, no tape measure-draped mannequins, no bolts of taffeta or tweed. Instead, every inch of the imposing room is lined with books: philosophy, gender studies, art history, literature. The top shelves are accessed via a handsome ladder gliding along a gleaming brass rail. Were Netflix's Emily in Paris to introduce a French intellectual with a private income and a subscription to World of Interiors, it would make for the ideal set.
Chiuri is much more interested in debating ideas than hemlines. There are other fashion designers with a similar mindset, but mostly they operate on the fringes of the industry, staging catwalk shows full of meaningfully asymmetric garments with challenging soundtracks to tiny niche audiences. Chiuri helms a luxury juggernaut of the highest order. A recent Dior catwalk show, held in Seville's Plaza de España, featured 110 models, 40 flamenco dancers and a 60-piece live orchestra, and was viewed by 150 million people online.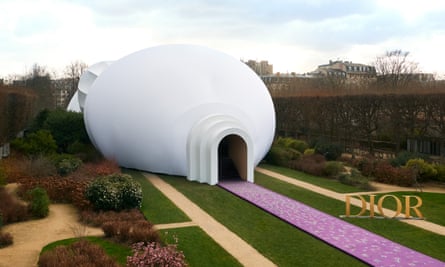 Chiuri's six years at Dior have been about feminism as much as fashion. When luxury brands collaborate with female artists and talk about empowerment, what they usually mean is dressing actors for the red carpet or making jumpsuits for a pop star's stadium tour. Dior is no slouch on that front – Olivia Colman, Natalie Portman and Anya Taylor-Joy were gowned-up for the last Oscars – but Chiuri goes much further. In January 2020, Dior's haute couture collection was shown inside The Female Divine, a kind of vast blow-up birth canal designed by American feminist artist Judy Chicago and installed in the garden of the Musée Rodin in Paris. It was decorated with embroidered slogans including "If women ruled the world would buildings resemble wombs?" which Chicago said was a rallying call against the phallicism of urban architecture. Two years earlier, Chiuri enlisted the escaramuzas, daredevil female Mexican rodeo riders whose costumes are drawn from the uniforms of women who fought in the Mexican revolution, to star in a show; that same year she collaborated with Israeli feminist choreographer Sharon Eyal to have sinewy, bodysuited dancers weave around the models on the catwalk, a representation of women's right to control their bodies and the space around them. I could go on.
These are not the sort of artistic projects that tend to have the boardroom reaching for their chequebooks. But here's the twist. Since 2017, when Chiuri's first collections went on sale, Dior revenues have tripled to €6.6bn. There are whispers that Dior could even be on track to catch up with its greatest rival for Parisian fashion bragging rights, Chanel. Avant garde feminist energy meets stadium-sized showmanship turns out to be a solid commercial strategy. To launch Paris fashion week, Chiuri took over the Tuileries gardens with another catwalk extravaganza so glamorous that A-listers were happy to be packed as tight as tinned fish in the front row. Go figure.
---
It is Monday afternoon when we meet and Chiuri has just landed back in Paris from her 15th-century apartment in Rome, where her husband still lives and where she returns each weekend. She greets me with a firm handshake – she's not the air-kissing type – and pulls up a chair behind a desk the size of a boardroom table, framed against the backdrop of her formidable library. She is wearing a plain black crew neck sweater, straight-leg blue jeans, dark loafers and socks. This, plus a smartly tailored black jacket on show days, is her uniform, one that gives away as little as possible while simultaneously presenting the starkest imaginable contrast to the full-skirted, cupcake-cute postwar New Look silhouette that the name Dior still conjures up.
Chiuri is the first female creative director in the house's 75-year history. (Rumour had it Vivienne Westwood was disappointed to be overlooked when the job went to John Galliano in 1995.) When I mention this, she seems less pleased with her accomplishment than irritated by the regressive attitudes of the industry. "Everybody was so surprised when I became the first woman in charge," she says, not visibly rolling her eyes, but I can hear it in her voice. "Nobody spoke about the fact that I had been working in fashion since I was 20." Chiuri had little profile outside the industry but was revered within it, having created the iconic Baguette bag at Fendi in the 90s and, with creative partner Pierpaolo Piccioli, revitalised Valentino in the 2000s. "What I think is it is very hard for women to arrive in positions of power," she says, swatting away complacency or congratulation. "The narrative is always that the geniuses are men. Why does no one remember Vionnet [Madeleine, pioneer of the bias-cut dress]? She was more of a genius than many of the men."
When the lights went down for Chiuri's first ever Dior catwalk show back in September 2016, the audience expected a new look. A new hemline, a new colour, a new era revived: these are the ways in which a new designer stamps an identity on a brand. What we got, instead, was a new set of values. A new point of view. A slogan T-shirt, emblazoned with the Chimamanda Ngozi Adichie quote "We should all be feminists", made fashion headlines. Chiuri hit a nerve, elegantly skewering the way in which feminism is seen as oppositional to femininity. This was a radical vibe, coming from Dior, a house that, ever since it burst on to the front pages in 1947 with the New Look – a nipped-in waist, the suggestion of child-bearing hips under a full skirt – has stood for a romantic, traditional vision of womanhood.
"The Dior shape is not just fashion," Chiuri says. "It is the silhouette everyone has in their imagination as the fantasy body of a woman. It is the way Dior has always spoken about what is the ideal for women." She is protective of the motives of the man she calls Mr Dior, who "made that silhouette when women in France were very skinny, because of the war. He wanted to give women a body that gave them optimism for the future. His sister Catherine had come back from a concentration camp, so to give her this big dress, where she can look in the mirror and see this new body, was to give her hope."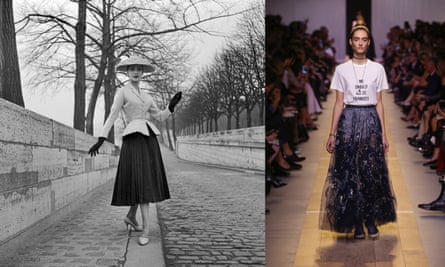 But 1947 was a lifetime ago. Times change; that is literally the point of fashion. "To have just one silhouette now, that objectifies women," she says. Especially when that silhouette was chosen by a man. So instead of swapping the New Look hourglass for a different silhouette to stand for a new type of woman – girl-boss power shoulders, or athletic androgyny, or red-blooded voluptuousness – Chiuri defined her new Dior woman by what was going on inside her head, not her waist-to-hip ratio. "We must never forget that fashion speaks about society's relationship with women's bodies, more than with men's bodies," she says. "I grew up in a feminist family, in a patriarchal society. Abortion, divorce – those issues were around when I was growing up, and there was lots of discussion in my family home. My parents didn't tell me I needed to find a husband – they said, 'You need to study, you need to find work, you need to make a life for yourself and be independent.'"
Chiuri was born and raised in Rome, with a seamstress mother and a father in the military. "It was a working-class family," she says. "Clothes had to be durable and functional." The intellectual take on fashion she has brought to Dior is in contrast to a home life always rooted in the practicalities of garments: having grown up surrounded by her mother's sewing patterns, she went on to marry a bespoke shirtmaker, Paolo Regini, whom she met on holiday in Sardinia. At their wedding she wore a simple white skirt, lace shirt and beige coat.
She remembers her 1970s childhood as a time of social upheaval in Italy. She was six when divorce became legal, 13 when abortion did. Her parents embraced the mood of change, encouraging their daughters to pursue career ambitions, although her mother was "obsessed with English style. Little embroidered smocks! The way she wanted to dress me didn't represent who I was." When she was 12, Chiuri discovered Rome's flea markets, rummaging for vintage jeans and American jackets. At design school she made the then unfashionable choice to specialise in accessories, a decision that was to stand her in good stead when she came of age in the It-bag and trophy shoe-obsessed 90s. At Fendi, then Valentino, she carved out a successful career while remaining below the radar. That changed when, aged 52, she took a giant leap into the spotlight by signing up for the Dior job. Even now she retains an air of self-containment, with an unusually businesslike demeanour in an industry where flamboyance is a default setting.
Chiuri always talks about women, plural, rather than about a woman. This is unusual in fashion, which is structurally individualistic – a woman buying a dress is buying it to empower herself, not the sisterhood. A female consumer reaching for her wallet is, in the slick language of commodified feminism, owning her beauty, her sexuality, her power. "I don't like so much the word empowerment," Chiuri says. "If we are going to challenge the patriarchy, women need to speak more about sisterhood and community. Real feminism is about women supporting each other."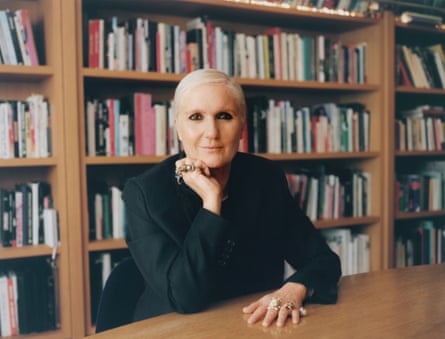 A year after her Dior debut, Chiuri opened her spring 2018 collection with another slogan T-shirt: "Why Have There Been No Great Women Artists?", the title of a seminal 1971 essay by feminist art historian Linda Nochlin, a copy of which was on every seat. This time, the words were printed not on a plain white crew neck but on a Breton striped, boat-necked T-shirt, underlining the juxtaposition of the message with the backdrop of Paris fashion week, the mothership of French chic. By now, Chiuri had also instigated a policy of using female photographers for all Dior's commercial projects. "People were shocked when I first said I only wanted women to shoot for us. They said it wasn't possible – that there aren't so many women photographers. I said, that's not true. There are plenty. But when fashion houses want to shoot a campaign, they always call up men because the male gaze is seen as the perspective that matters." A commitment by LVMH, owners of Dior, to increase the representation of women in key positions to 50% stands at 45% across the group, and 50% within Dior. They have committed to pay equity by 2025.
Delphine Chanet, the photographer taking Chiuri's portrait today, is one of seven other people with us during the interview. The crowded room is an inescapable reminder of the fact that, however independent-minded Chiuri's instincts might be, she operates inside a vast company entrenched in established interests. One of the crowd is Chiuri's daughter, Rachele Regini. Regini, dressed all in black, with tousled dark hair to her mother's platinum and Nike Air Max rather than leather loafers, is the only person who interrupts Chiuri when she is speaking, usually to clarify her mother's English, which remains charmingly Roman-accented. Regini, who studied art history followed by an MA in gender, media and culture at Goldsmiths, University of London, joined Dior with the title of cultural adviser in 2019. It is an enviably plum role for a 26-year-old. But then, daughters are very much in vogue at Dior. LVMH's billionaire owner Bernard Arnault recently promoted his daughter Delphine,47, previously second in command at Louis Vuitton, to the role of CEO at Dior. Chiuri says she values the youthful – often critical – eye brought by Regini. "For young people, big fashion brands represent the establishment," Chiuri says. "Sometimes I think their ideas are oversimplistic. But it's always interesting to talk to people who challenge your point of view."
---
A few weeks after we meet in her office, I see Chiuri again, this time backstage as she prepares her haute couture collection for the catwalk. Regini is at her side. Photographs of Josephine Baker, whom Chiuri wants to celebrate today as a forgotten muse of Christian Dior, are pinned on the walls, while front of house, giant portraits of Eartha Kitt, Nina Simone and jazz pianist Hazel Scott, by the African American artist Mickalene Thomas, dominate the show space. We talk about the historical under-representation of black women and how "who is celebrated always matters", as Chiuri says. The fashion industry may be superficial and ostentatious – there is a certain irony in the way our earnest chat about privilege is punctuated by waiters plying us with macarons and iced berries – but it is highly visible in our culture.
Splashy, expensive, blockbuster fashion shows staged in landmark locations have become the industry's most eye-catching trend. Chanel has staged shows in Grand Central Station and on the streets of Havana; Louis Vuitton in a Japanese forest and a Brazilian art gallery; Gucci in Puglia and Rome. Chiuri has masterminded some of the most lavish. In 2019 she hired the glorious ruin of the 16th-century El Badi palace in Marrakech for a sunset show which ended with a performance by Diana Ross. This March, a few weeks after a Paris fashion week show, she will stage one in India. The environmental impact of these standalone shows, requiring many extra airmiles, is a serious issue in fashion. When I raise this with Chiuri, she pushes back by emphasising the importance of taking high fashion out of the ownership of a few western capital cities. "To speak about fashion today cannot mean just to speak about Paris, London, Milan, New York. The tradition of fashion exists in every culture. Of course I think about whether it is necessary to show in another country, but we have to change the narrative, to celebrate every fashion culture on its own terms."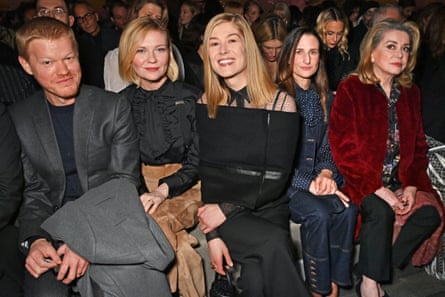 The prospect of being accused of cultural appropriation and cancelled frightens many designers, but Chiuri is adamant that for Dior to retreat within a comfort zone of Parisian references is not the answer. Her collaborator for the Marrakech show was the anthropologist Anne Grosfilley, an expert on African textiles, and the fabric for the collection was produced by Uniwax, a textile manufacturer from Ivory Coast, so the show had a tangible local benefit. The one in India will showcase the work of the Chanakya School of Craft, with which Dior has partnered to promote opportunities for women in this highly skilled sector of India's garment industry. "Designers of the past, they didn't understand what it meant to have a colonialist point of view. If you asked Mr Valentino, or Gianni Versace … they loved and admired fashion from other cultures but they were not informed about what it meant to have a colonialist gaze. Now, we understand better how to have a relationship of respect and support."
But there is a curious blind spot in Chiuri's progressive point of view when it comes to models. Even in the 2017 show when she paid homage to paintings by the late Niki de Saint Phalle, the French-American sculptor known for her voluptuous female bodies, Chiuri did not include plus-size models on the catwalk. Pressed on why she doesn't present a more diverse lineup of bodies, she bats me off with logistics. With so many catwalk collections to produce at speed, samples can be made in only one size, she says. I can't help feeling that a woman who can overcome the challenges of lockdown to commandeer the Versailles Hall of Mirrors as a location for a digital fashion show, as she did in 2021, could figure out a way to make a few size 12 skirts were she to put her mind to it. She gives an exasperated sigh: "They are just models, the girls who show the dresses." The flipside of her focus on the higher purpose of her catwalk messaging is, perhaps, that she sees a kind of solipsistic vanity in the modern obsession with seeing different body shapes represented on the catwalk. But it strikes an off-key note, coming amid her championing of the importance of representation and of feminism as a conversation that includes all women.
In 2020, Chiuri was criticised for the casting of another digital show, featuring almost entirely white models. At the time, the film director Matteo Garrone defended the casting on the basis that the story was based on classical imagery. But if Disney can embrace colourblind casting, why not Dior? "That was crazy," Chiuri says of the furore. "We analysed if it was possible to use different nationalities, but it would have been inappropriate in a different way. In a story based on [Ovid's] Metamorphoses, if you put one nationality inside of another … there was a risk of sending a worse message. When we did the film, I said to Rachele, 'I'm sure someone's going to attack us for this.'" But she does not apologise, expressing instead, once again, her frustration with the media obsession with models. "I don't think it should be so much about them."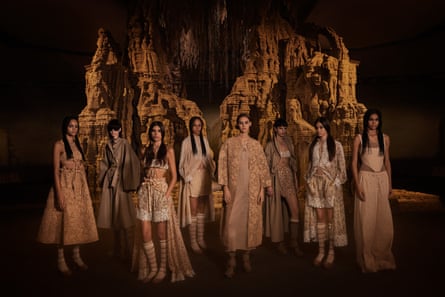 Chiuri's muse for her spring 2023 collection was Catherine de' Medici, a figure who has been on Chiuri's mind ever since she arrived from Italy to make her way as a woman in a patriarchal Parisian society. De' Medici did the same 500 years ago, when the death of her husband, King Henry II, thrust her into the limelight as Queen Regent during the successive reigns of her three young sons. De' Medici was an original power dresser: she made mourning robes a signature look, using an all-black wardrobe to express her singular position in court. (There is also a story that she introduced high-heeled shoes to France because she wanted to equal the stature of her husband's statuesque mistress, Diane de Poitiers, although sadly this seems apocryphal.)
"She was one of the first women who consciously expressed her power through dress," Chiuri says. "She arrived here in the heart of French culture, and she made her mark." The irony, she adds with a laugh, is that, unlike De' Medici, she has barely thought about her own clothes since she started living in Paris. "All that matters to me is that I am comfortable. When I find a coat that has the right weight on my shoulders so that it feels good when I walk around the city, then I get two of that coat." She keeps duplicates of favourite pieces in Paris and Milan. "I don't have time to think about clothes," she says, then laughs. "Well, no, of course, I am thinking about clothes all the time. But I'm not thinking about clothes for myself. I'm busy."