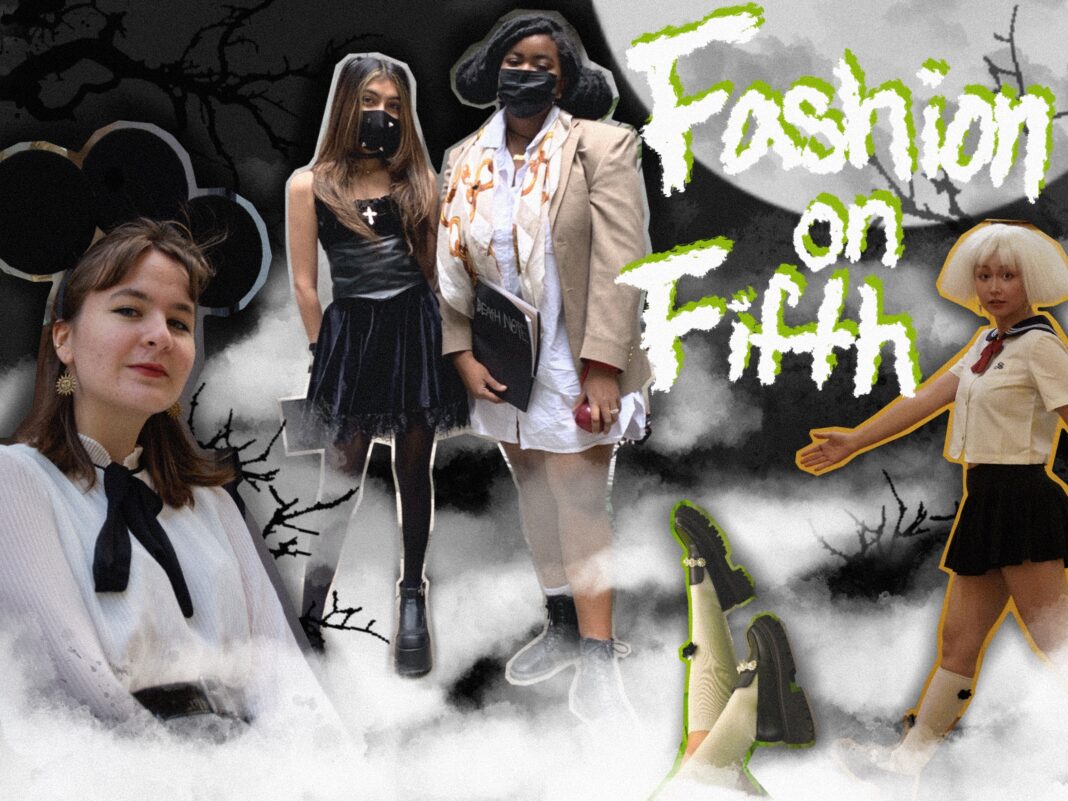 Welcome back to Fashion on Fifth, a beloved Free Press series showcasing New School students' unique and wide-ranging style. After seeing how this creative community translated their personal looks to Zoom, our reporters are taking to the streets of Greenwich Village once again. This semester we are bringing you more in depth profiles and thoughts from your peers about their style evolution throughout the pandemic and since being back in New York City.
Amelia Baker
Photograph by Alexandra Nava-Baltimore
Amelia Baker, a second-year drama student focusing on acting, has been a lover of Halloween since a young age. Dressing up is one of her favorite things to do, bonding her with her mother through dress-up for many years. Baker's mom always "advocated for making your costume," she said.
This year, Baker is the club from a deck of playing cards. She has been planning this costume for weeks, and pulled her initial inspiration from an image on Pinterest. She brought a printed photo of the image to her interview with The New School Free Press, and said that she has been "obsessed" with it for the past month. 
Baker is wearing a pleated white dress with a black necktie from the sale section in TJ Maxx, an item she actually plans to wear again in the future. She paired it with a black belt, tights, velvet gloves, and low-top boots, which she already owned. "I have this amazing headband [that] my roommate created for me," she said. The headband has three round black circles on top made from cardboard. "Some people say it looks like Mickey Mouse with [a] third ear, but I think it's cute," she said. 
Photograph by Alexandra Nava-Baltimore
Her Halloween plans include wearing her costume to the tech rehearsal for Oath, a student-run show that is a part of the New York Theatre Festival. Baker is running the lighting design for the production, which will premiere at the Tank Theatre on W 36th St. Afterward, she plans to hang out with her roommates. 
Baker is very excited to celebrate Halloween with friends again this year. She has enjoyed walking around and seeing the city "decorated and ready for Halloween. I've seen a lot of little kids going to school in their Halloween costumes," Baker said. "It just brings back a lot of memories [from] before [the] pandemic, the world [is] festive again." 
Baker's love of Halloween led her to work on costume design for several shows. The wide variety of pieces she used for costuming inspired her to find creative ways to incorporate costume pieces into her wardrobe. "I don't steal costumes," she said, "[that is a] disclaimer. [I] don't do that. But [I pull] inspiration." 
Photograph by Alexandra Nava-Baltimore
Growing up in Los Angeles, California, Baker's Halloween traditions included trick-or-treating with her best friends, watching scary movies, and trading candy. She remembers it was popular in her elementary school to be a Cotton Candy Witch. Many of Baker's friends bought the costume from Party City, but she and her mom decided to create it on their own. 
Baker's mom "got a bunch of old shirts that we didn't wear anymore. And she made [a] yellow, orange and white skirt," Baker said. "It became my favorite thing after [Halloween]. I wore it as much as I could." This costume was the first she remembers making, she said, "There's something that's kind of special about it; it brought us closer," said Baker. "And then [the costume] had a little more meaning… that I saw in the process being made."
Photograph by Alexandra Nava-Baltimore
In her everyday style, Baker loves layering. "I always like to add what I can to an outfit," she said. Baker never feels like anything is "too much." Her go-to pieces for fall are vests and chunky sweaters. "I definitely pull a lot of inspiration from the 60s," she said. "More specifically, [from] the Sears catalog with the mothers and their gardens – bright, primary colors." Baker shops primarily online, on sites like ThredUp, Etsy and Depop. 
Being on campus for the first time this semester, Baker feels like she "needs to go all out," so she has been "dressing up a lot more than usual."
 Fée Brandt
Halloween is a time to dress up, but for third-year integrated design student Fée Brandt it's just another day. 
"A lot of people say … I'm a different character every day," Brandt said. "I also act [differently] when I'm in a different outfit and really like the idea of just being a different [version of myself each] day," she said. 
Brandt said the way she talks or sits can change depending on her outfit. "I love when people realize I'm doing that, acting as a character," she said.
As an illustrator Brandt often puts herself into the shoes of characters she designs. Her Halloween costume is inspired by a character Brandt created and Stocking, a character from the show, "Panty and Stocking." 
Brant originally ordered a Stocking costume but learned it would arrive late and decided to improvise. Brandt's homemade costume includes a white wig, earrings she bought from MaHETON, a white top, a black skirt, socks and black loafers embellished with pearls.
Brandt's wardrobe is a mix of clothes from stores she finds while walking around the city, as well as a few customized and thrifted pieces. "[For] a lot of my clothes I will cut … and add new things to [them]," she said. 
Brandt said during the pandemic she tried to dress up, "sometimes [to] just dance in the mirror, but most of the time [it was] just pajamas." 
Now that New York City has reopened after many months of closures and stay-at-home orders, she said she's noticed people have begun to show more creativity in their fashion, which she welcomes. "Recently I feel really included by the world because everyone is expressing themselves," Brandt said. 
"There is this misunderstanding that you have to be rich to have a good presentation," Brandt said. "I think as long as you want it, like you have this goal in your heart [about how you want to dress] … you just have to believe in it."
Ish Patil
Ish Patil is a third-year Integrated Design student at Parsons who describes her style as typically "more androgenous." But the evolution of her personal style while at Parsons has been a reflection of her complex cultural and scholastic background. 
Though Patil was born in New York City, she grew up in Mumbai, India and attended a boarding school in Switzerland. Her acceptance to Parsons was a kind of coming home for Patil, in more ways than one. 
"In India… people really want male kids, they don't really appreciate female [children] as much," said Patil. "I was lucky enough to have parents that didn't think that way." 
But other members of her family weren't always as accepting. "So I've always felt the need to dress a little bit more masculine, maybe to prove myself or something," Patil said.
For Halloween this year, Patil dressed as Misa from the manga series Death Note. "She has a very gothic and feminine style. I don't think I'm bold enough to have this as an everyday look," said Patil. She's taking this opportunity to explore a look that's out of her comfort zone, something that Patil has felt more liberated to explore in her everyday looks since returning to NYC. 
Patil pieced together her outfit with a dress from Dolls Kill, the Demonia boots were a gift from her sister, and Patil found her gloves at a Halloween pop-up store near the University Center. Patil made the mask herself, part of her own brand: Back in Bombay. "Initially [I] tried on a real corset… but I think the lady at the store pulled it too tight, and I almost passed out… safe to say I went with an elastic one instead," said Patil. 
Patil spent the first part of the pandemic with her family in Dubai and India. "India is more laid back, yet conservative, whereas Dubai is really flashy." Patil's return to the city was a relief, "You can wear whatever you want here, so I've been able to explore a lot more," she said. 
Patil does feel some pressure to live up to The New School's famed student fashion. Some days, she said, "I'm just exhausted and tired, and [I] have my days when I just want to take it easy." But ultimately, the variety and creativity of the fashion on campus is inspiring for Patil. "Everyone is in these crazy outfits and you're able to get so many ideas, which I love. You see something amazing every day," said Patil. 
Recently, as indicated by this year's costume, Patil has been enjoying getting to know a more feminine side of her personal style. Patil hasn't totally rejected her affinity for more masculine looks in favor of the "more feminine and flowy" looks she's loving right now. "They're [both] a part of me, honestly," Patil said, "There are days I dress a bit more masculine and I feel powerful. But there are days when a more feminine style of dressing makes me feel really good."
Malaika Alilaw
Malaika Alilaw is a first-year student at Lang, with plans to declare a Journalism + Design major. She describes her style as a "boho-goddess type situation," relying on baggier silhouettes and lots of 90s inspired layered pieces. The "vibe" of Denise on The Cosby Show is always at the forefront of her mind while she is  shopping or putting looks together. 
Alilaw weathered the brunt of the pandemic's effect on academia during her junior and senior year of high school. She moved first to zoom classes and then transferred to an online charter school for her last year. 
Prior to the move to online class, Alilaw had always attended schools with uniforms. "I really got to look at my closet, and what I actually like," said Alilaw of the sudden freedom to dress for herself. 
"Moving from Georgia," where Alilaw grew up, "to [New York], I had to be strategic about my packing." Alilaw spent some time considering what she wanted her "look" to be before arriving on campus this year. "At first it was a lot… especially with the friends I made, I kinda set myself up for feeling like I had to get [dressed] up all the time," she said.
Alilaw has been making her way back to herself as the weather gets cooler. "I'm a layers person, so that has helped me take the pressure off, and remember I just need to impress myself," she said. 
Alilia put her love of layering to use for her Halloween costume this year. She is dressed as Misa, a character from the manga series Death Note. "I found the show over the pandemic actually," said Alilaw, "I was obsessed with it, just because it's weird." 
Alilaw doesn't thrift much in New York City, "everybody kinda wants the baggy look right now, and that's my size," she said. Most of Alilaw's thrifted pieces have come from thrift stores in Georgia. "It's really expensive here. I'm used to [the prices] back home. Like this jacket was five bucks!" Alilaw tends to use her Unidays account to check where she has discounts on a particular day, and then visits those stores to see if there's anything she likes. 
Alilia put her love of layering to use for her Halloween costume this year. She is dressed as Misa, a character from the manga series Death Note. "I found the show over the pandemic actually," said Alilaw, "I was obsessed with it, just because it's weird." 
"But when I was trying to figure out how I was going to do the costume, it was actually really hard to find pieces. So I decided to just try to figure out, if I was the character, what I would wear," said Alilaw. 
Alilaw ended up with a tweed blazer that she thrifted at a Value Village back home in Smyrna, Georgia, paired with a white shirtdress from Misguided, which she gets a lot of use out of in her everyday looks. Her scarf was "stolen" from her mom's closet and her combat boots were a gift from her aunt, who has had the greatest impact on Alilaw's style.
 "My aunt has helped me a lot, because she's very much one of those people [who] doesn't care about trends. When you see her, it kinda looks like she does, but it's because she genuinely just wears what she likes," she said.