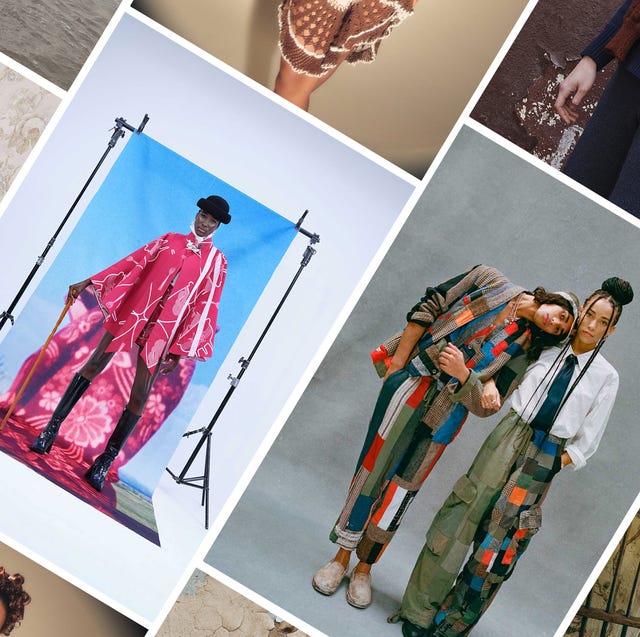 Courtesy
On the surface, there is a tension between luxury and sustainability. Sustainability, at its core, is about equity—equity in access to natural resources, respect for every element of the supply chain, and engagement that lasts because we can survive in the long run only with balance. If you know anything about climate change, you know that it affects marginalized communities the most severely. Luxury, on the other hand, is often defined by rarity, with value linked to scarcity of resources, high price points, and lack of access (in branding at least) except for an elite few. But what if it isn't? There's a strong argument to be made that luxury is really about process, how something is made, the stories within it, and, ultimately, expertise and ritual in craftsmanship. A brand name may be shorthand for value, but it means nothing if the product itself isn't made with care and intimacy of precision.
Enter a new generation of designers who are fusing luxury and sustainable development practices—and, in particular, are working with female artisans. These creatives are experimenting with artisan partnerships that rebalance power structures and bring the focus back on how clothes, accessories, and home goods are made. Take Viennese-Nigerian ready-to-wear designer Kenneth Ize, who started his own aso oke factory in Ilorin in west Nigeria to preserve the increasingly rare craft and lift up the female weavers who loom his fabrics, or Aurora James, the designer behind the 15 Percent Pledge, who works with female artisans in Burkina Faso and Ethiopia on her signature Burkina Slides and other products for Brother Vellies. As Mairin Wilson, director of regenerative practices at L.A.-based brand Christy Dawn, comments, "We can have the brand win. We can have the natural dyer in India win. We can have the farmer win. We can have the soil win. Everyone can win. We just have to rethink the system and rethink these relationships."
In growing these artisanal collaborations, designers are preserving dying crafts and experimenting with new ones. They're bringing visibility back to supply chains. They are forming bilateral relationships with female artisans that have long-term impact. And they are defining a relation to clothing and other products that is not based solely in status or acquisition, but rather identity and the story between you and the garment.
Here are the designers who are fostering long-term partnerships with female artisans—in communities from Colombia to Cape Town.
Advertisement – Continue Reading Below
Kenneth Ize
When Kenneth Ize broke onto the international fashion scene, catching global attention with his LVMH Prize nomination in 2019, the industry was immediately taken by his rich Technicolor garments. He utilizes the intricate Nigerian flat weave art of aso oke—of which he also opened his own factory in Ilorin of female weavers with funds from his recent capsule collection for Karl Lagerfeld. "I think when I started this job, when I found the weavers, I was really interested. I found even more interest that it was women making this fabric," Ize reflects from Vienna, where he grew up alongside Lagos. "It felt very peaceful. It meant so much to how I wanted to see the world in terms of fashion and what I do. It keeps me so motivated every time. These women have individual stories just like everyone else in the world. They create something no one is thinking about. Imagine it: Weaving—turning yarns into a fabric by hand—is just so fascinating." The artistry and the intimacy come through in the vibrancy of the fabrics, which form the core of Ize's flared trousers and beautifully concepted pieces. "From where I'm from, it's very important to support women," Ize says. "Women have been so neglected in Nigeria. They are starting to have their own voices. They want to turn this into a business, they want to feed their family from this. Some have lost their husband or been divorced, they want to turn to weaving and tell something personal of it." The meditative process of weaving can be felt in the clothes. "That's what I love about the weaving I'm doing," he says. "It brings a different relationship. These are also women giving education to us. The weaving is dyed in Nigeria. We are focusing on what is the ground base."
Fringed Striped Woven Top
Diotima
"Crochet has always been a part of my life," says Rachel Scott, the designer behind Diotima, the 2021-launched ready-to-wear line named for the Greek priestess said to have invented the Socratic method. "In Jamaica, crochet is a craft that is still passed down generationally, so it's something that you see everywhere–doilies and table runners in people's houses, swimsuits and cover-ups, and hats, particularly in the Rasta community." In developing her line, Scott reconnected with a group of women she had met some 15 years earlier who specialize in hardanger pieces on the north coast of Jamaica. "Crochet is a craft that is still only made by hand. There are machine knits that try to approximate crochet, but they are still quite different and can never really capture the intimacy of handwork," Scott says. "As a designer, I feel quite strongly that knowing how to make things by hand is still a very active part of savoir faire and an absolutely necessary component of knowing how to live well." The designs themselves draw from personal and cultural histories; take the crochet detailing on the organza pencil skirts in her debut collection, which references dancehall queens. "Part of what I try to highlight in my work is our relationship to labor, and the ways in which it can be reoriented to make it less alienating," Scott continues. "In this way, it was extremely important to me to figure out a way to establish a relationship with artisans that is as collaborative as possible. This usually means working within a specific range of stitches or patterns they enjoy making, but also thinking together about ways to bring new form to tradition."
Christy Dawn
Since launching her line in 2013, former model Christy Dawn has been deconstructing and reimaging the norms of fashion production. Today, the brand works with the Oshadi Collective in Erode, India, where they collaborate in regenerative farming—bringing 24 acres of depleted farmland back to life—natural dyeing, weaving, and cut and sew to create a line of women's dresses. "At first, we were very focused on the regenerative agriculture aspect, but after two trips, we realized that this project is about way more than fostering a relationship with the soil and creating this blooming system of regeneration," says Mairin Wilson, Christy Dawn's director of regenerative practices, of the artisanal partnerships that underlie the clothes. "It is also creating relationships throughout the entire supply chain. We've gotten to a point where [the fashion industry is] just a lot of negative feedback loops where in order for someone to win, someone has to lose. But it doesn't have to be that way." The hand-block-printed dresses made with various North Indian artisans turned out to be the most popular in the collection, with demand rising every season. "The natural dye guru had to do 30 years of apprenticeship even to start his own studio," Wilson reflects. "Because this industry has become so extracted and mechanized, we think of clothing as just a functional thing. It can be an art piece. You can own something that you know the entire story behind. You love it. You can have that ethical relationship to it. That probably means that in the end, you're not going to throw it away after seven wears."
The Knotty Ones
"Lithuania is probably not the first country that comes to your mind when you think of fashion, but as a country, we have such deep-rooted traditions in knitting," Danuté Rasimaviciute says over Zoom from Vilnius. "[It] has been passed from one generation to another. High street fashion was taking over the streets. Our heritage is almost dying." This contemplation over the death of traditional Baltic weaving led to the birth of The Knotty Ones, a sustainable knitwear line Rasimaviciute created alongside two close friends, Sandra Pangonyte and Akvile Meskauskaite-Dobrajs, also Lithuanian. Together, the three women now employ 70 female artisans throughout rural Lithuania who utilize traditional weaving techniques, hand-dye wool with local herbs and berries, and create pieces that are at once very modern and reflective of Lithuania's nature and craftsmanship lineage. "We never intentionally set out to employ women in rural areas of Lithuania," reflected Rasimaviciute. "As we started growing and looking for more knitters, we realized the people who were answering our ads were all women in rural areas. That's not super convenient in terms of managing our business and logistics, but I think it very quickly just clicked. In those areas, there are zero opportunities. You can literally work as a cashier, you can work at a post office, or you can work as a stay-at-home mom. We really want to bridge that gap between you and the person who made your knit." This means hearing the story and seeing the face of the artisan who hand-knit your piece, and potentially donating to their dream fund, a program Rasimaviciute, Pangonyte, and Meskauskaite-Dobrajs founded, which fulfills a specific dream of the artisan. (One woman was given paid time off and classes so she could get her driver's license; another was given a long-term dietician to help her with her diabetes.) "The more we grow, the more change we can have," Rasimaviciute says. "We can help more and more women."
Greg Lauren x Gee's Bend
"I've always been fascinated by the emotional story of the materials we use," Greg Lauren says, calling from California's Pacific Coast Highway. The designer has made a name for himself utilizing deadstock and deconstructing Americana classics. This month, he will launch his first women's ready-to-wear capsule in collaboration with Gee's Bend, the Alabama-based quilting artists who are direct descendants of the generations of slaves who worked the cotton plantation established in 1816 by Joseph Gee. "I became very committed to this idea of examining some of the inspirations: Where do they come from?" Lauren says. "As designers, we see things, we're inspired by them, we use them, and often feel that it's enough to say we're inspired by something. That is not enough." In researching the art of quilting, Lauren gradually connected with the original artists. As part of the partnership, Lauren sent fabric deadstock to 14 quilters in Alabama, who selected materials and developed 276 panels over the course of several months that were then collaboratively designed into the pieces you can find on sale at Bergdorf Goodman now, in store. "We sent tweeds, performance fabrics, vintage fabrics from army tents, denim, everything we had," Lauren muses. "This is a moment where there has to be a new model and way of doing things. If we are working with a community of artists, there needs to be a new way where the focus is on proper attribution, proper consent, and, most importantly, proper financial contribution." As such, 100 percent of the profits will go to the community. "This one was fueled by a joy that comes from a true collaboration and relationships that were built in an organic, authentic process," he says. "There is mutual hope we can continue this. We've built this model. Now the next step is: How do we do this?"
Hunting Season
When Danielle Corona moved to Bogota about nine years ago, she knew immediately that she wanted to incorporate Colombia's long artisanal history into her designs. The Cuban-American designer, whose husband is Colombian, is known for her elegant, timelessly minimal bags at Hunting Season. Today, the bags are just as much associated with ikara palm weaving details—made by an artisanal collective of mainly women in Sandona, Colombia. "It's been handed down for generations," Corona says. "It's my favorite part about what we do." The community has been growing with the brand. "With that comes a lot of responsibility," she continues. "We learned that during the pandemic." Now, Hunting Season is preparing to launch its first home goods this February, an extension of the travel and handbag offerings we know to expect from Corona. "You want to create a beautiful thing, but there is a whole other community that is growing with you," the designer says. "Each piece has a story."
Striped The Round Trunk Crossbody Bag
L'Envers
If you talk to Julie Charvet Robinne, the founder of L'Envers (meaning "reverse" in French), she can tell you about the Spanish merino sheep her sweaters come from; the young French spinner who also develops unique, naturally dyed hues; and Liliana, the goat breeder in France who hand-knits mohair pieces. Every element of L'Envers' supply chain is visible, and the focus is on artisanal collaborations—many of which have been fast disappearing for decades and centuries—in France, Spain, and Italy. "I think this is something you can do if you live next to [the artisans] and you speak the same language and you share the same culture," Charvet Robinne, who comes from a textile family in Northern France, says of these partnerships. "The idea with L'Envers is really to work with local people. We can really have strong and rooted relationships." The pieces are handmade and knit specifically for the buyer, so they arrive in three to four weeks once the order is made. "It's really knit for you," she says. Someday, Charvet Robinne hopes to grow the main atelier so that other brands can utilize the same traditions in savior faire. "It is a very slow process, but we are very happy," she says. "It's all about making people understand that you need quality of time to do quality things. It is very respectful of the human and the animal. Everything we do is to preserve the planet and make sure that it is good quality—because that's a piece we will keep for years and years that will last for a lifetime."
My Little Maroc
Founded by two close friends, Lina Kettani and Vanessa Salome, the pandemic-launched My Little Maroc is striving to restructure the way artisanal Moroccan goods reach the international market. The two met as students (Lina is Moroccan; Vanessa is American and was studying abroad) in 2003, and have slowly sought out artisans—skipping the middle man—to bring home goods, like the traditional hand-sewn poufs or Beni Ourain rugs from the Atlas region to buyers on terms that respect the artisans. "They all have very moving backgrounds," Salome says. "They live in remote areas, and a majority lack the basic necessities we are accustomed to. Many are widowed or divorced women with multiple children, and they are the sole providers for their entire family (not only their direct families, but usually even uncles, aunts, grandparents, cousins, et cetera). The artisans are all so talented, and their craftsmanship is gorgeous." In addition to selling the artisans' designs under fair conditions, the pair collaborates with artisans to design rugs. The goal is to eventually open a school, where the artisans can teach their specialized crafts and at the same time, gain literacy. "It is our core value to foster long-term relationships with them in a fair trade dimension," Kettani says. "Similarly, we hope our clientele hold the same mindset as us, a like-minded family that not only want beautiful art, but also want to make a difference in the lives of the artisans."
Yufayyur Beni Ourain Rug – 9'9″ x 6'11"
Thebe Magugu
Johannesburg-based ready-to-wear designer and 2021 Woolmark Prize finalist Thebe Magugu is fast becoming known for his garments that explore the tensions between (and possibilities within) modernity and spirituality—not just conceptually, but through the very processes by which they are made. He is also known for working with local South African artisans—from knitwear specialists to denim weavers—in his production. Take a printed shirtdress from his fall 2021 collection: "[It] is a collaborative effort between myself and an eco-textile maker, Larissa Don, who also consults as a spiritual healer," Magugu explains. "When sangomas [spiritual healers] want to communicate with the spirits and ancestors, they burn a plant known as imphepho, and because fashion is the medium I use in which to showcase African histories, we decided to transfer this plant onto fabric through the process of stamping and boiling." The fabric was then sent to Svenmill, a Cape Town-based company specializing in coating, which coated it in antiviral properties that will last for up to 30 washes. "It's this intersection between the tension between faith and science we are constantly toying with," he continues, also mentioning the chips that buyers can find in the garments, which once tapped into a smartphone, reveal the inspiration, fabrication, provenance, and each hand who made it. "I want the collections to show the changing face of African and South African fashions, its forward-looking heritage and culture, which has an intelligence that makes it very multifaceted," Magugu says. "The image I refer to above is available on MATCHESFASHION and a few other key stores, and I mention that, because I feel like people across the globe can enjoy physical pieces of South African culture and heritage. It truly is the continent's time now."
Zigzag-Jacquard Tassel-Hem Wool Dress
This content is created and maintained by a third party, and imported onto this page to help users provide their email addresses. You may be able to find more information about this and similar content at piano.io
Advertisement – Continue Reading Below