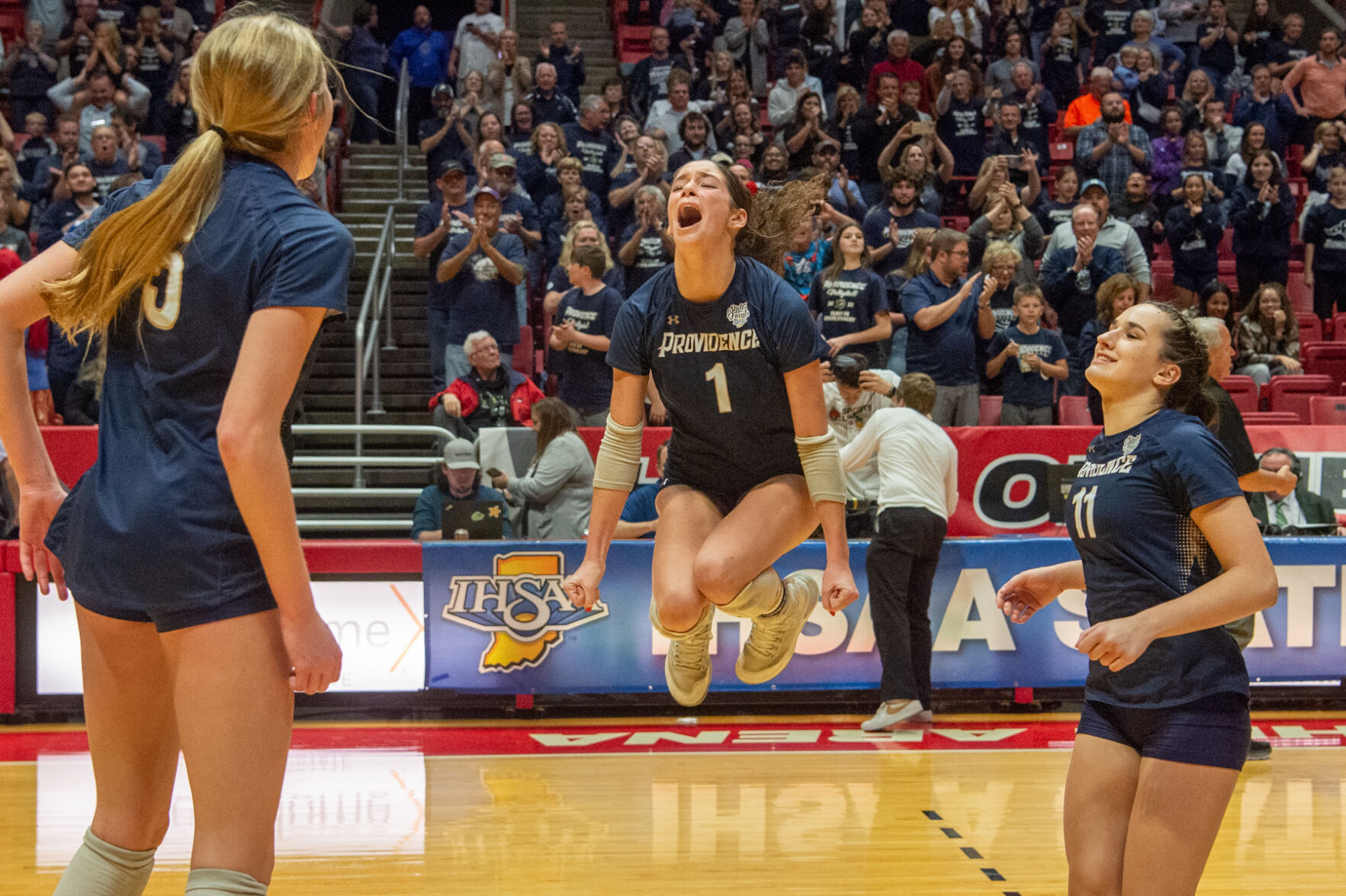 MUNCIE — It was a storybook ending for Grace Purichia.
The Providence senior setter capped off her career in memorable fashion Saturday evening.
First and foremost, she and the Pioneers beat Bellmont 25-15, 25-16, 22-25, 25-16 in the Class 3A state championship match at Ball State University's Worthen Arena to claim the program's fourth title, and first since 2015.
Secondly, she got to share that with some of her best friends and her mother, Providence head coach Terri Purichia.
Then to top it off, after the match Purichia was named the recipient of the Mental Attitude Award by the IHSAA Executive Committee.
"It was in the most perfect way possible (to end my career)," she said. "I could not be more proud or happy."
Purichia finished with a 3A state final-record 56 assists, 16 digs and three kills for the Pioneers, who set records in kills (67) and hitting percentage (.315).
"Grace is the maestro to our orchestra," Terri Purichia said. "She does a great job of figuring out which of our hitters has a mismatch and delivering the ball so that they can be successful. The strength of our team is balance, that's the name of the game. When we're able to put our hitters in one-on-one situations, they score. She studies so much film and she just knows the other team so well and she knows with each rotation what can score. When she's able to get the ball in her hands she can generally put it in an area where a hitter can be successful. I thought she did a great job today trying to stay calm and helping her team stay calm, even when there was a little bit of pressure put on us. I thought she had a great game."
Providence won the first two sets handily, outscoring Bellmont 50-31, behind the pin-point setting of Purichia.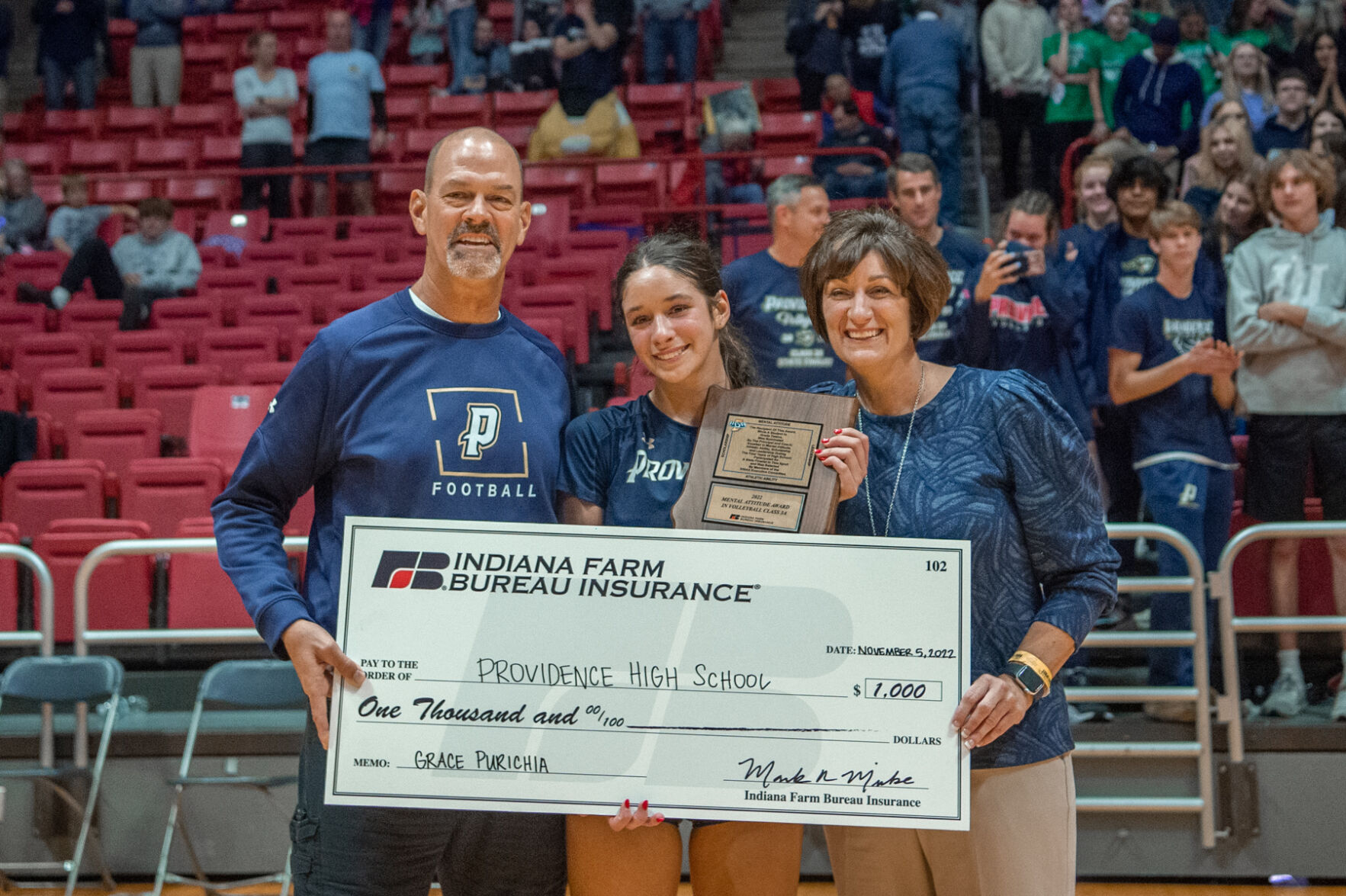 The Braves bounced back to take the third set by three points, but the Pioneers rallied from an early five-point deficit for a nine-point triumph in the fourth.
"We came out like gangbusters," said Grace Purichia, who had 11 assists in the first set, 15 in the second, 14 in the third and 16 in the fourth. "We were just basically wiping the floor with them. We came out with so much intensity and so much love and passion. We just wanted to win so badly. In the third set that team, they stepped it up, they started to have a game plan and it was working. But ultimately we just decided that we love each other too much to let this slip away from us. We just turned it up a notch. We were not going to lose. We were not going to go home with sad tears. We were just going to win it for each other."
It seemed only fitting that Purichia, who has been around the Providence program all of her life and is the only player in its history with 2,000 assists, 1,000 digs, 500 kills and over 100 aces, ended the match with a kill — slamming down Lilly Tappel's bump.
"(The coaches) hate whenever I do that on serve-receive, but I was like, 'This is the perfect opportunity, I have to take it,'" Grace Purichia said afterward. "The pass was perfect and I just went down with it. I had so much momentum and I was like, 'If I can end this game right now I will.' So I did it."
"That was the perfect way to end it," said Taylor Bansbach, the only other senior on the team. "She threw that ball down and it hit the floor. Oh God, it's going to make me cry again, it was amazing."
After celebrating with her teammates on the floor for a few moments, Purichia quickly found her mother. And just like the previous Saturday, following Providence's five-set win over Western Boone in the semistate, mother and daughter shared a tear-filled embrace on the court.
"It's just unbelievable," Grace Purichia said later. "This is so perfect and I'm just so happy I got to do it with her and this team. It is just so amazing."
A short time later, Purichia was announced as the recipient of the Mental Attitude Award, which is annually presented to a senior who has "demonstrated excellence in mental attitude, scholarship, leadership and athletic ability during her four years of high school."
"I was actually so shocked by that, I was not expecting that at all," she said. "That just really gave me an overwhelming sense of joy and pride and I was just very grateful to have gotten that award."
Purichia, the daughter of Terri and Jeff, has a 4.2 grade-point average and is a member of the National Honor Society, as well as the Spanish Club and yearbook staff at PHS. Additionally, she volunteers at the St. Elizabeth's Home as well as the Holy Family Parish.
"Grace works very, very hard," Terri Purichia said. "This is just like a fairy tale.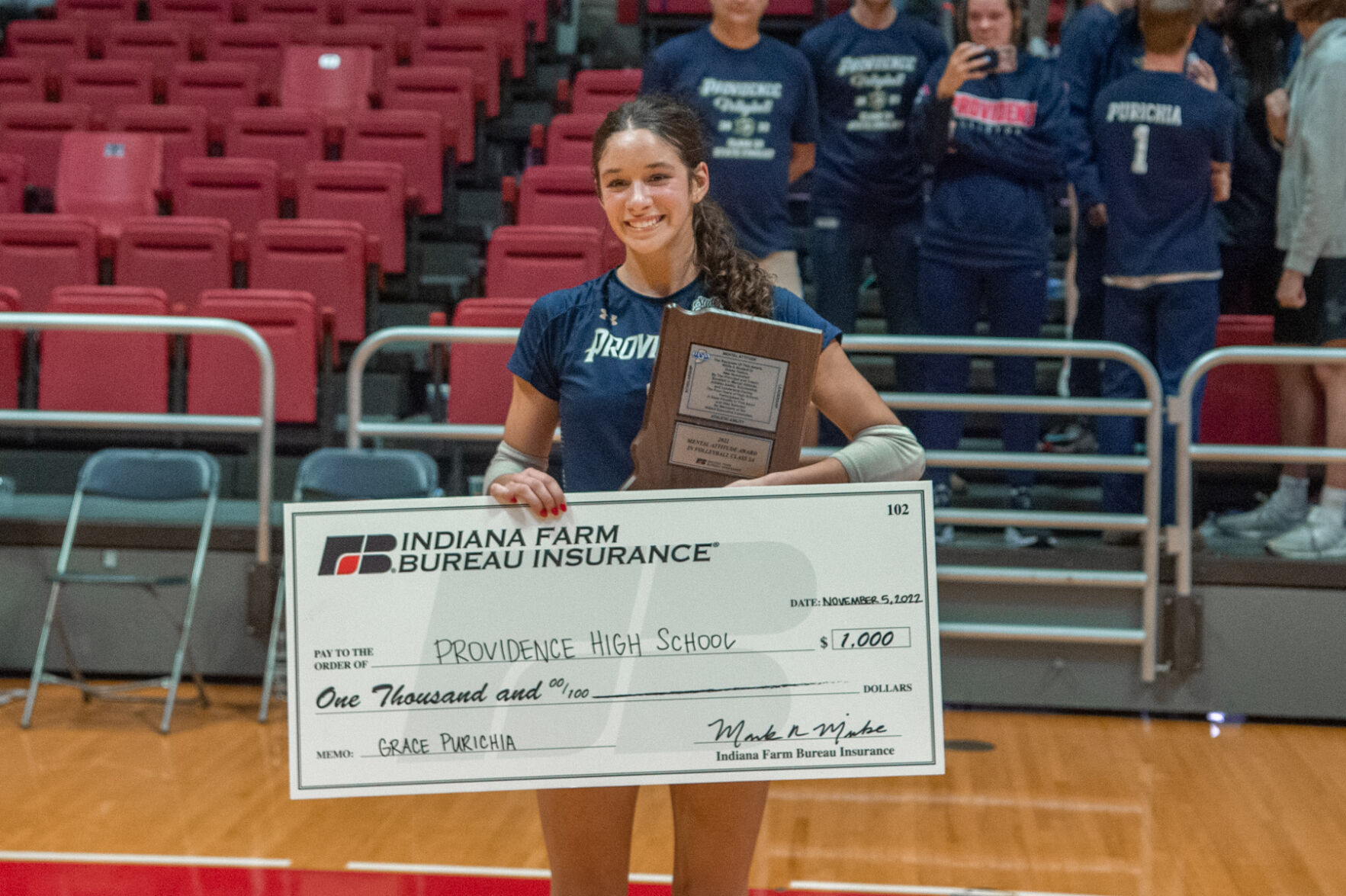 "I had no idea that she had won that award and Jeff told me right before they presented it to her. He laughed and said, 'I knew she had attitude, but I didn't know it was mental.' And we just cracked up. She is just a really great kid and this is so important to her. She is everything that our program tries to create and to produce. She loves the Providence community so much. She loves being a student and she loves her teammates. I'm very, very happy for her that she got to go out in this style and with these kids around her, supporting her, and the Mental Attitude (Award) is just icing on the cake. That is just such a nice accolade for her to really kind of feel good about the work that she has put in to being a student and being an athlete and being a young lady with some strong character."
Grace Purichia, who will continue her academic and volleyball careers at Jacksonville State University in Alabama next fall, is the sixth girl from Providence to win the Mental Attitude Award. She joins Diana Zipp (2001), current Pioneers assistant coach Charly (Day) Neal (2002), Abby Spitznagel (2013), Patricia Mattingly (2014) and Audrey Shannon (2015).
"It is such an honor that I get to receive that and kind of display this type of leadership and this mentality for my school as well," she said.
It was the perfect ending for Purichia.
"(It's) pure happiness," she said afterward. "I have no thoughts, I'm just very overwhelmed right now. I'm just happy. I can't stop crying, I just keep hugging people and I'm just so happy."