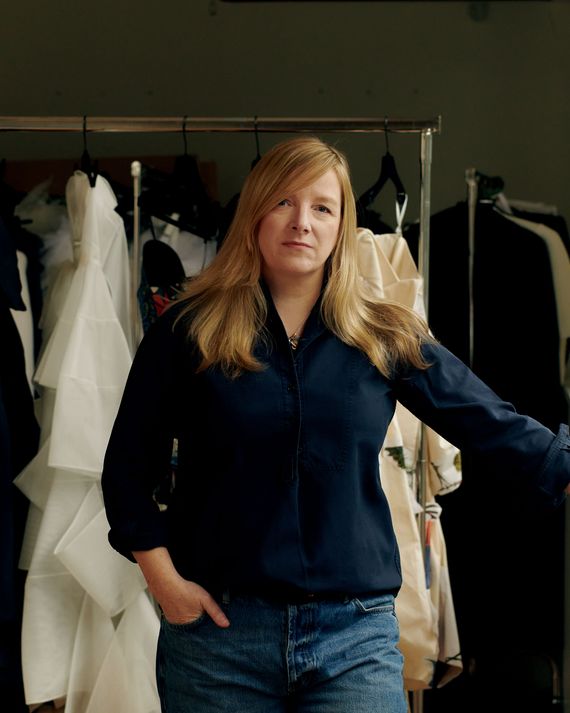 In 1996, when the British designer Sarah Burton was a student at Central Saint Martins, the London arts-and-design college, she asked a teacher, Simon Ungless, to recommend her for an internship at Alexander McQueen. This was something Ungless could easily do: He had worked with McQueen on his earliest collections, including "Taxi Driver," his first after leaving school. Presented on a clothes rack in a room at the London Ritz in 1993, "Taxi Driver" laid out much of the territory that would become synonymous with McQueen. The original "bumster" trousers, which were cut extremely low on the hips in order to lengthen the female torso — and demonstrate, he later said, that you could change the way women looked just by cut. The precision tailoring that caressed the body so lightly and seductively it suggested nudity underneath. The black crow feathers that evoked nature and also death. It was all there, though the collection itself did not survive beyond that night. Ungless and McQueen got so hammered they forgot they'd left it in a trash bag behind a club.
By the time Burton was in school, McQueen had produced the work that made him famous. He deeply believed that life was a dark and grotesque experience. Why else encase earthworms in a molded plastic bustier, as he did for the 1996 show "The Hunger," and frame this picture of bodily decay with a perfectly cut jacket? He also hated lying, especially the big institutional kind. That hatred was the force behind one of his greatest provocations, the 1995 "Highland Rape" show. Critics accused him of misogyny for putting models in torn and grimy-looking lace dresses and tartan jackets that exposed their breasts. In fact, McQueen's subject was the history of English aggression in Scotland and the tendency of designers to reduce his ancestral home to romance and "fucking bagpipes." His desire to confront a range of feelings with tell-it-like-it-is accuracy — and match it with Savile Row technique — brought him renown as well as the best interns.
It was hard not to be impressed by Burton. Ungless, who taught textile printing at Saint Martins, remembers being struck by her interest in his print formulas. "Most students didn't care — they just wanted to know the end result," he said. "But Sarah wanted to know exactly what chemicals I had put together in order to understand the effect when she printed it on a particular fabric." Also, she was apparently not as consciously cool as most other students. "I just remember her coming in in her jeans and white T-shirt," Ungless said, "and just knuckling down and working on someone else's project to make it as great as it could be."
Sarah Burton with Alexander McQueen backstage in 2008.
Photo: Ann Ray, Courtesy of Barrett Barrera Projects
Nonetheless, he declined to recommend her. Past interns would go to McQueen's studio; he'd let them wear the clothes, and "suddenly they thought they were McQueen," Ungless said. But when she asked again, he figured that "Sarah is a worker, and she's never going to be slipping on that jacket from 'Highland Rape' and going out to a club. So I called Lee," he said, using the designer's first name.
At the time, McQueen worked out of a narrow basement in Hoxton Square, in the Hackney borough, furnished with a secondhand cutting table, a sagging sofa, and some chairs. He had one employee, a young woman named Trino Verkade, who wore many hats, nearly all directed at sustaining the minuscule business. Burton, who was 21 and shy, found the creator of the bumsters unexpectedly warm. The first thing he said was, "Do you believe in UFOs?"
"Of course I do," she replied. Within a week, she was at the pattern-cutting table.
In May 2010, after 14 years as Lee McQueen's right arm, she became the brand's creative director following his suicide at age 40. He had been suffering from depression and work pressures compounded by despair over his mother's recent death, and the coroner revealed he had attempted suicide the year before. The consensus inside the company was that Burton was his only possible successor. Less than a year later, while still dealing with the reality of going on without McQueen, Burton designed Kate Middleton's royal wedding dress as well as Pippa's sexy, mermaidish number. No one knew who had designed the dress until a few days before the wedding; Burton successfully threw editors off her trail, including Anna Wintour, and was only found out when a London fashion writer recognized a woman in blue jeans ducking into the hotel where the Middletons were encamped. Seen by tens of millions of people, the dresses — their quality on par with Paris couture — brought the McQueen brand a new level of recognition and respect.
Thirteen years later, Burton is one of the biggest moneymakers for Kering, the luxury group that owns McQueen and a host of other labels, notably Gucci and Balenciaga. In 2010, McQueen's annual sales were less than 100 million euros; though Kering does not publish results for all of its brands, current and former executives suggest that McQueen's revenues today could be as much as €800 million. There are a lot of ways to make money in fashion, many of which involve capitalizing on a designer's original creativity to push shoes, bags, and logoed hoodies. Instead, Burton has built the business strongly around ready-to-wear, making high-end clothing that still embodies Lee's distinctive silhouette — a sharp-shouldered suit, a romantic-looking belted dress, a leather biker jacket, new versions of the bumsters. Lee himself would not have pulled this off; though he would never have called himself an artist, he cared only about the creative expression of his shows and the showpieces. "She's way more protective of the brand than Lee ever was," Ungless told me. "She's the guardian and the safe-keeper of that whole thing, and I don't think Lee would have been that way."
That journey was harder than anyone could have imagined. McQueen was a world-builder who approached every show with clarity of purpose. "He knew exactly what he wanted," Burton says, and he never allowed himself to think that anyone's opinion was more important than his own. But Burton was made of softer material. She didn't realize how much emotional courage it took to ignore other people's opinions about the direction of the house. "I was very much a yes-person. My biggest thing was learning how to say 'no,'" Burton says. "My opinion, right or wrong, is what I believe McQueen should represent."
On a midmorning in December, Burton and I meet in her spacious and orderly studio atop the multistory McQueen company headquarters, which is now in the London borough of Islington. At 48, Burton still wears jeans and white shirts — on this day with a navy crewneck and white sneakers. Unlike a Tom Ford or a Miuccia Prada, designers with charisma and a coterie of artists and actors, Burton has a public image that is opaque. She doesn't draw attention to herself. She once admitted that if she's at a big event and some celebrity taps her on the shoulder, she assumes "they're asking me to move out of the way." She added, with distinctly British self-deprecation, "And you know, it doesn't bother me."
Burton grew up in a village in northwestern England. Her father, a Londoner, had moved north to work as an accountant, and met her mother, a music teacher from the Wirral. Burton, who is the second-eldest of five children, attended an academically rigorous girls' school in Manchester. She enjoyed making her own clothes but didn't consider fashion school until an art teacher mentioned Saint Martins. Since her internship at McQueen was unpaid and her parents couldn't support her, Burton took part-time jobs selling toys at Harrods and working as a barmaid. In 2002, at a gig at the Water Rats pub, she met David Burton, a photographer. Married since 2004, they have three daughters.
Before I arrive in the studio this morning, she's asked her design team to move to another part of the floor so we can talk and roam without distraction. In the center of the room are several dress forms, known as "stands." Unlike most other creative directors today, who don't sketch or drape but talk out concepts with design assistants, Burton still likes to design on the stand, pinning fabric to build a shape. "I learned from Lee how to make clothes," she says. "I can cut a pair of trousers. I can drape a dress." We pause in front of a photo of an austere black jacket, beguiling in its precise cut, from 1994. "When you look at Lee's early work, what's amazing is the simplicity of it," she says. "And, actually, a lot of what I've been looking at over the last two years is that work."
Burton was the only assistant McQueen ever had, and in the beginning, at Hoxton Square, it was the just the two of them making a collection with the help of Verkade and interns. Trained on Savile Row, McQueen had the highest standards of English tailoring at his command, but he also felt free to break those rules. And he could cut a new garment with amazing speed. Burton once said he was so quick in a fitting that "he made you feel like you might as well pack your bags and go home." But she soon found out that McQueen, whose female ideal was strong and sexual, expected her to assert herself in the studio: "The minute I started expressing my own opinion, he respected me."
As with "Highland Rape," McQueen used his shows to tell stories. Ideas came to him from historical periods or an art photograph, and Burton would help build the narrative by researching images and fabrics. Because the brand didn't have much money — and wouldn't until 2000, the year that Gucci Group (now Kering) bought it — the studio could follow whims with nothing to lose. For one show, some dresses were made from tablecloths. One day, McQueen came in with straw beach mats and said to Burton, "Let's do an embroidery to make a beautiful samurai coat." That coat became an engine for one of his greatest shows, "VOSS," in 2000, which dealt with notions of confinement and surveillance and had models walking around inside a giant glass cube, its walls two-way mirrors. Razor-clam shells were transformed into "sequins" for a gown. Burton says, "There was that feeling that anything was possible. He could see what he wanted immediately, and we had to find a way to make it work." He could also decide a month before a show to scrap a collection if he didn't like it. "But that was okay," she adds. "Lee was never worried about other ideas coming."
In 2000, McQueen made Burton head of design, and among her duties was translating the runway looks every season into more commercial styles and adding things the brand's merchandiser might need for selling. "I don't think Lee even looked at the commercial collection," Karen Mengers, the head of merchandising since 2007, told me. "I don't think he even knew what merchandising was. He'd say, 'What are you doing with your marketing?' He so didn't care about that side of it." Mengers recalled a meeting she once had with Burton to go over what styles they needed for stores. McQueen came in and asked what they were doing, and Mengers replied, "I'm talking to Sarah about the need." McQueen joked, "What you need, what you need," and Mengers said they needed more pencil dresses. "So he drew this sketch, and the next second Sarah is sketching exactly what came out of his head. It was the first time I had witnessed the immense connection between Lee and Sarah. To me, it was a squiggle. To Sarah, it was a pencil dress."
McQueen's death turned everything Burton knew upside down. "The world that I grew up in was Lee," she says. "He was this person you just wanted to make happy. He was a genius. And when he died, I thought it was over. Then you think, Can I do the job? Am I confident enough to think I can? Can there be creativity without the whirlwind he made? It made you question everything." Burton knew how to research and build a narrative. She shared McQueen's love of nature and Britishness. And she knew how to drive a collection from early prototypes to the runway. What made her anxious was how to approach McQueen's savage sense of female beauty. His approach was both instinctive and masculine. He'd sometimes get beads of sweat on his head when cutting a garment. Burton was mild, a nurturer. McQueen could summon his darkest thoughts and send them into battle, confident in the knowledge that they were other people's thoughts as well. She had a terrible fear of failure.
"The first show I did — well, the expectations were so low," she says with a laugh. "I was, like, Okay, I'm a woman. The clothes can't be a cartoon version of McQueen. It can't be Disney McQueen."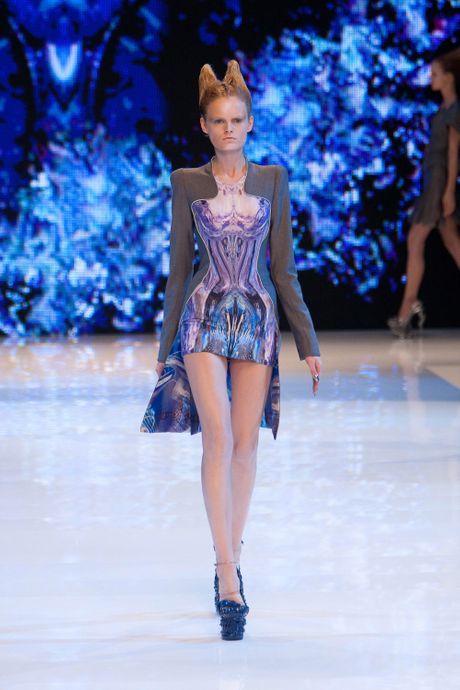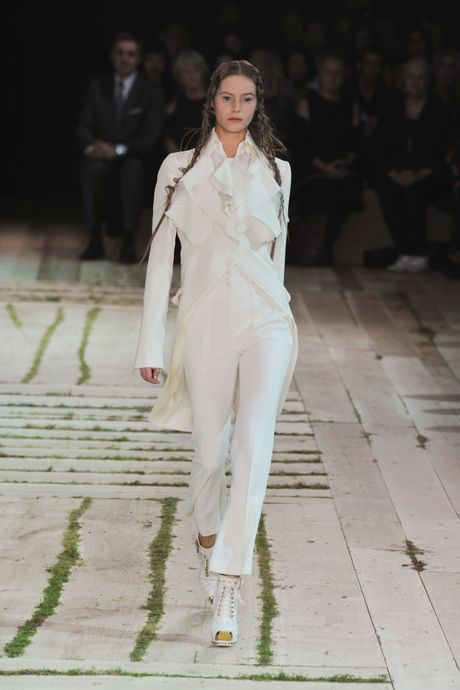 In hindsight, the solution was fairly obvious. For her first show, she stripped away Lee's dramatic sets, and the extreme hair and makeup, and instead had a rough wood floor with bits of grass poking through. The first model wore a white tailcoat with trousers and a ruffled white shirt, and her hair was in braids. Tender was a word journalists would often use to describe Burton's sense of beauty. Indeed, in the collections between 2011 and 2015, it's striking how delicate and unarmored the McQueen warrior women looked in their layered chiffon baby-doll dresses, semi-sheer gowns the color of smoke and washed with gold beads, and black pantsuits with bras. There were still McQueen's high-Gothic elements, like corsets and studded leather, and the dazzling couture techniques, but a softer femininity was creeping through.
Most of the reviews Burton received were good; nonetheless, many shared a tone of consolation that would last six or seven years after McQueen's death, with writers saying things like "She can rest easy in the knowledge that her vision is working." I remark to Burton that perhaps they didn't give her enough credit. "Maybe because of all that Lee went through, I quite like to stay within myself," Burton replies. A lot of creative directors quickly make themselves the story when they take over a house. "Maybe I don't play the game enough," Burton continues. "I don't know. Those kinds of comments are obviously hurtful, and that's probably why I'm not on social media. I guess I want the work to speak for itself."
Burton's real struggle was asserting her authority. François-Henri Pinault, the chairman and CEO of Kering, remembers conversations he and Jonathan Akeroyd, McQueen's chief executive at the time, had with Burton in which they told her, in effect, "You paid tribute to Lee … You should feel very comfortable now bringing your own vision and creativity to the house." Pinault felt that she was "refraining" from making changes, and he wasn't sure why. Burton says that's true. "When Lee died, I realized that he was a conductor of an orchestra," Burton tells me. "It was this orchestra of a lot of different types of personalities, not just people in the studio but outside people as well." And he could always tell someone to shut up. "That was my biggest struggle, learning to say, 'This is what I want,'" she says, adding with a grin, "And you all have to listen to me."
In the summer of 2016, Burton took her design team on a tour of Scotland's Shetland Islands, where they visited weavers and craftspeople who knit wool lace. Burton later based an entire collection on the region's craft traditions, as well as its wildlife and scenery, while giving the clothes a punk edge — a rustic Fair Isle sweater mixed with a kilt and boots. Burton then led a trip to Cornwall, spinning off a collection based on its samplers and kneelers and pagan symbols. (Vogue called it a "creative breakthrough.") The textile mills around Manchester, where she grew up, became fodder for a new collection. The scraps cut off in the looming of wool served as inspiration for embroidery on a tweed coat. Heddles (a piece of a loom) her team found in a box in a factory were sliced lengthwise, studded, and turned into paillettes on a long dress.
Gradually, though, Burton began stripping away the humble craft flourishes, if not the need for storytelling itself. For her fall 2021 show, she put anemones on voluminous, full-skirted dresses. The flowers weren't precious, though; they were blown up to a graffiti-like abstraction. Burton got the idea for big volumes from the fabric, an ultralight recycled poly faille.
But by last summer, as she started on her spring 2023 show, Burton was feeling differently about the McQueen woman: "No, I want to see who she is. I want to be braver. It's easy to hide behind volume. Let's make her superstrong." The result was a collection of severe black jackets and jumpsuits sliced open at the sides, a black leather miniskirt draped at one side and densely embroidered with flowers, and bandage-style knit dresses that seemed to peel over the body. The suggestion of nudity throughout contained the shock of early McQueen and drew from the brand's essential equipment — a certain cut and silhouette and dark beauty. More impressively, the pieces caught the dramatic shift of the last year, when young women began to bare more of their bodies. Burton is far more innovative than she probably receives credit for, but it's always balanced by an awareness of what customers want — a lesson she learned from her earliest roles at McQueen.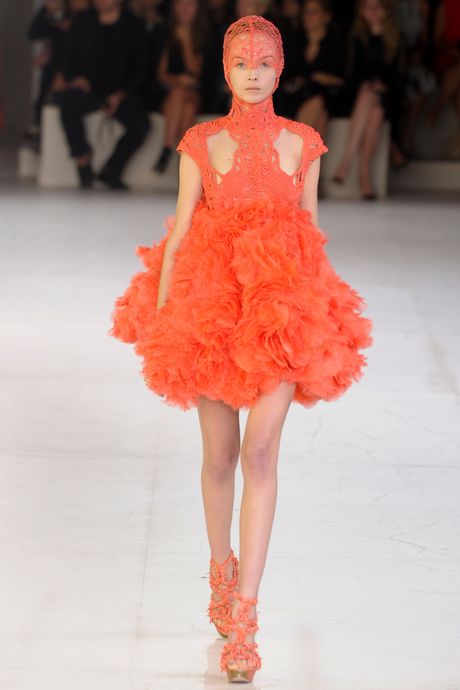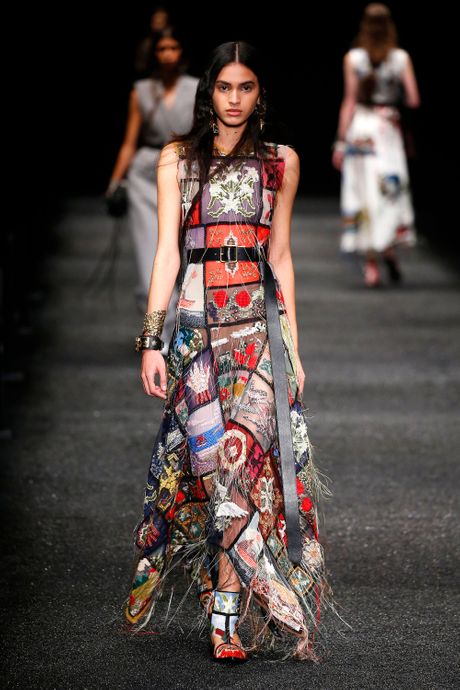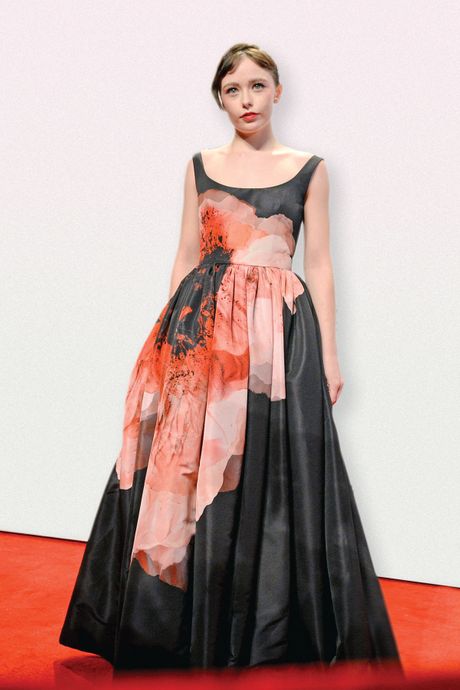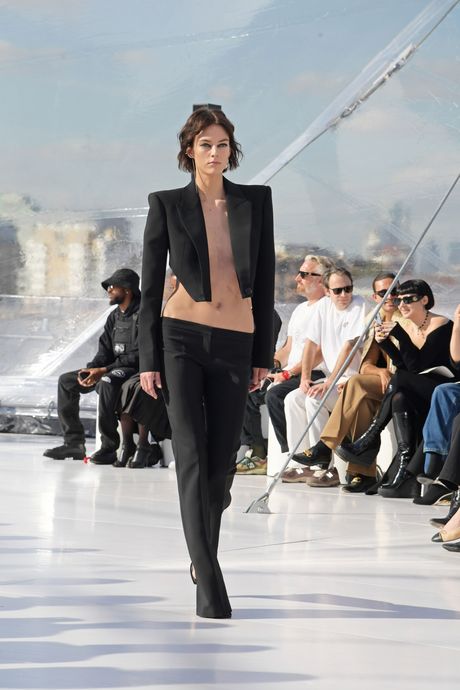 Burton tells me the pandemic forced her to be resourceful — to use existing fabric stocks and overdye them, say. Many designers had similar experiences, but for Burton the lockdowns reminded her of the early freewheeling years at McQueen. "It made you question what you were doing," Burton says. "Why do you need 60 versions of that? Let's just do the things we really believe in." Ungless said she expressed the same desire to him: "She was really convinced, and convincing, that this was going to be a way forward for her at McQueen, that it was going to be slower, the collections were going to be smaller. And, I mean, yes, that's a really fanciful thing, isn't it? There's no way Kering is going to allow that to happen."
Kering does indeed have plans for McQueen. When I spoke to Pinault, I mentioned I had heard that the company is aiming for a big expansion over the next few years. Is that possible? "It's a brand that has been built already to a very significant size by the success of ready-to-wear," he said, "and based on that we have room to develop other categories that are still underdeveloped." Those areas are bags, shoes, and jewelry. "If you put that together in a very smooth way, without pushing too much, the brand will grow beyond €1 billion, for sure." Pinault, who recently met with Burton to discuss her ten-year plan, added, "When you're a ready-to-wear brand at that scale, with such consistency in style over time — without disruption for more than ten years — that's a huge asset."
Burton doesn't have to be overly concerned about where ideas will come from. She has the archive — "The breadth of work is incredible," much of it her own — and she has a design team. "The difficult thing has become the research," she says. "Where do you start?" At this point, we have been talking for hours. The streetlights have come on in the neighborhood. Burton has no desire to return to her road trips through Britain, any more than she wants to go back to the highly embellished clothes she did a decade ago. "Because people actually want new from us," she says. "They don't want the same thing over and over."
I realize now, though, what Burton's storyless collections of late represent. She wants to do what she loves most: create clothes from scratch. McQueen had the same impulse near the end of his life, when he said to her, "I don't want any research. Turn all your boards around. I only want fabrics." In the center of Burton's studio, on a pair of stands, are designs in progress: sleeveless black dresses with deep armholes and a slash across the bodice. They appear to be slightly twisted around the body. I have been eyeing them ever since I walked in. They are different yet unmistakably McQueen.
"This is just the beginnings of something," Burton says as we circle a stand. "I do a lot of black tailoring, and I was thinking about how to take it into other dimensions." She must have sensed my curiosity, because she expertly deflects it and says, shyly, "Again, it's just the beginnings."