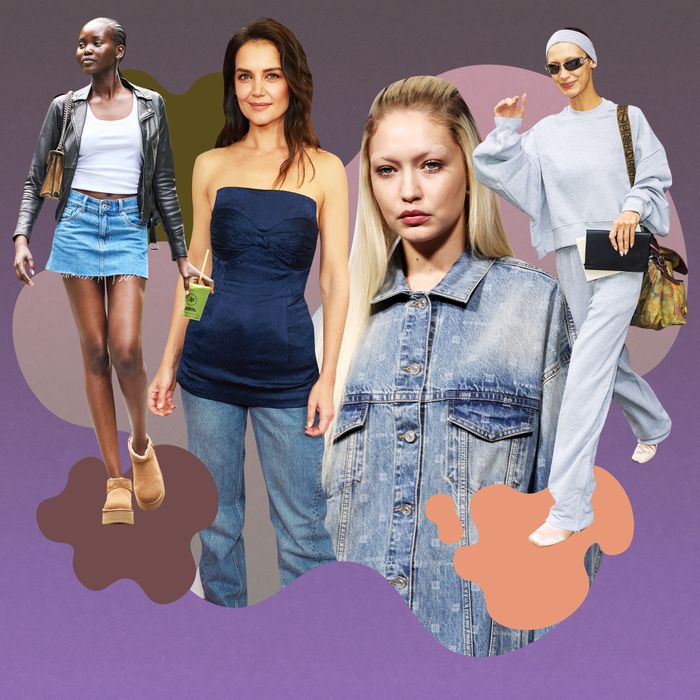 Please, not again.
Photo-Illustration: by The Cut; Photos: Getty Images
According to my calendar, the year is 2022 — soon to be 2023 — which I have come to accept, though my Instagram has not. Recently, whatever evil entity controls my "Explore" page has been dialing back the clock. Where I would usually get skin-care tips and animal videos, I am now seeing outfits dredged from the halls of my high school. A recurring example: Reels by content creator Isabel Galvin, often wearing a short skirt, a baby tee layered over a longer tank, a Juicy zip-up hoodie, a Tiffany heart tag, and flip-flops, even in the cold. Which … oof. I know that outfit. I wore a version of that outfit a lot.
For months, it has been clear that 2022 quietly picked up where 2004 left off. On Givenchy's runways, Gigi Hadid stomped into view with a strip of top hair pinned straight back to the crown; en route to the shows in Milan, Bella Hadid stretched a wide fabric headband over her hairline, ears tucked under its girth. On Instagram, an influencer folded a half-foot cuff into her overlong jeans, flashing a familiar round Repetto toe, and suddenly ballet flats were declared stylish again. Now Adut Akech is wearing UGG ankle boots (with platforms this time), Katie Holmes is wearing a tube dress over jeans, and people are calling Abercrombie & Fitch "cool." But surely I am not the only one who can't stop my brain from primal-screaming when I read headlines threatening the comeback of sideswept bangs.
What were these outfits doing?
Photo: Vince Bucci/Getty Images
In one sense, the return of the aughts was inevitable: Trends live on a wheel that rolls inexorably forward, one recycled era tipping into the next, an obsession with '90s nostalgia — baby tees under sundresses, high-waisted, straight-leg denim, claw clips everywhere — careering toward the baguettes, single-button cardigans, and feather trims of the year 2000, just like what happened the first time around. The mid-aughts are upon us once again, a period that's impossible for me to untangle from the mortifications of being a teen.
By the time I was old enough to experiment with style, fashion had arrived at a weird place. The template was strict and nonsensical and went something like this: Minimum one camisole layered under a long shirt. Extra-long jeans (bootcut or flare) underneath, cut low enough that belt loops sometimes had to be eliminated, which did not at all preclude the possibility of slinging a massive belt around the hips. That's a lot happening already but also not enough: Try multiple necklaces, chunky and clamorous. Try a big-ass bag, slouchy and tasseled. What the hell — try a weird shrunken vest, a trucker hat (Von Dutch, please), a droopy newsboy cap, and maybe make it knit. Or keep it flirty with a camo miniskirt — just make sure to add shearling boots for confusion.
From approximately 2004 to 2009, not even professional styling and a celebrity budget could save a person from bonkers choices. Chaos reigned. Look at pre-billions Kim Kardashian, the pre-Row Olsen twins, Lindsay Lohan, or Rihanna. In those days, celebs would just throw on whatever and hit the red carpet. Reenacting her award-winning kiss with Ryan Gosling from The Notebook, Rachel McAdams wore dark jeans and a peplum going-out top at the 2005 MTV Movie Awards. Attending the Kids' Choice Awards that same year, the Spy Kids girl explained her ensemble thus: "These are Jimmy Choos," she said, pointing to her pink strappy sandals. And "these are just off the rack," she added, gesturing at her olive-green cargo capris and rainbow tube top. "I was at the mall and I was like, That's cute and that's cute, so." The tidiest possible encapsulation of the era: mall fashion run amok.
Your queens of mid-aughts dressing.
Photo: J. Vespa/WireImage
Already, in 2003, CNN was predicting that "the mall as you know it is headed toward extinction." Growing up in the Midwest (and attending a wealthy suburban private school), I never would have known. We had so many malls — malls for all occasions. What was I doing on a Friday afternoon as a 14-year-old if not combing through henleys at the local Abercrombie with my friends? The tyranny of malls is the only through-line I can find to explain the single-mindedness of this era, the obsession with labels, the strange hodgepodge of sartorial contradictions displayed on a single body.
Two decades later, that reckless abandon turns out to be the element of mid-aughts style I can respect. The willingness to pile on all your favorite clothes at once, whether or not those items are seasonally appropriate or match, and then walk around in them outside — this speaks to a carefree attitude. It takes self-assurance to stick to your sartorial guns when others are telling you that you look ridiculous, and as a teenager, that is something I utterly lacked. Being a teen is a famously embarrassing enterprise. I cared very much what other people thought, and I felt self-conscious all the time. I got too tall too early, and nothing ever seemed to fit me correctly; pants and tops ended at strange, abrupt angles, exposing awkward stretches of sock or creating extra-obvious sweat stains where too-short shirts cut into my armpits. I recall my underwear constantly creeping over the waistband of my too-low jeans — and not in a fun, intentional Dua Lipa way. I remember thinking that whatever my actual fashion sense was, it probably wasn't this, but I did not know how to exist in my body, let alone what to put on it. I didn't want the added attention that comes with making a conspicuous style choice in a school at which the majority of the student body wore the same thing. The pressure to conform ran high, and when I rewind the tape, the feeling that lingers is one of insecurity and inadequacy.
Not even Rihanna could resist the allure of a weird tiny vest.
Photo: Evan Agostini/Getty Images
Everyone, I think, accrues their own periods of fashion horrors. My guess is that the trend cycles you wind up hating were the ones that never quite fit in the first place. For my mom, it's retching at a whiff of the shoulder pads and boulders for buttons of the '80s — too many bad memories attached. For me, it's the years 2003 to 2008. It's less the goofiness of the outfits that makes me cringe than the memory of how I felt in them: awkward and misplaced. But one nice thing about getting older is that the ingredients for developing a sense of personal style — the self-knowledge to identify the cuts, colors, textures, whatever that suit you and the confidence to wear them — can crystallize over time. I now know what I like and what I really don't (capris, fedoras, handkerchief hems), and when this hairstyle comes circling back around, I look forward to watching smugly from the sidelines.